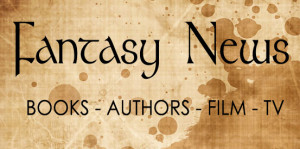 This week (and in future weeks) I thought it would be nice to bring you something a little different. As much as I love talking about my book, I appreciate you might want to hear about other things too.
I'm thinking that chances are, you're reading this blog because you like the fantasy genre in all its forms (including TV – HBO Game of Thrones?), and like me you will have a truckload of favourite authors, TV, films etc. Or maybe you're fairly new to the fantasy genre and would like to find a bit more of what's out there.
So, here's the idea. I'm going to start blogging more about all things related to fantasy – news about authors, new book releases, TV/film adaptations (including Game of Thrones), reviews, and so on. Basically, if it's about fantasy, it's fair game. I will blog whatever looks interesting that I feel is worth sharing with you, but if you want to see more news on a specific topic, favourite authors etc, let me know.
So, onto the first instalment, just a brief one to get started.
News this week in the fantasy genre…
Fantasy Books
Knight of Aslath (Dreaming God Chronicle) Scott Foley
For those of you that don't already know, the first book of the Dreaming God Chronicle is released on 17th July!
Read more about the book here: http://scottfoleybooks.com/ and from that page you can even get a 3 chapter sample to whet your appetite. If you are a fan of epic fantasy authors like Tad Williams, Ramond E Feist, David Gemmell and George R.R. Martin, I think you will like it.
Knight of Aslath will be just 0.99 during the launch and will available on:
Amazon (available for pre-order)
iTunes (available for pre-order)
Kobo (available for pre-order)
Nook.
Half a War (Shattered Sea) Joe Abercrombie
The third instalment in the Shattered Sea trilogy, Half a War is released on 28th July. The series has gathered critical acclaim, and if you're a fan of grimdark fantasy, Abercrombie is (in my view at least) it's undoubted king.
Winds of Winter (A Song of Ice and Fire / Game of Thrones) George R.R. Martin
Rumours abound that George R.R. Martin has finally finished writing the long awaited Winds of Winter. Martin has been under pressure to complete the book after the HBO Game of Thrones TV show has almost caught up with the Song of Ice and Fire books. Martin has claimed that Winds of Winter would be eligible  for the HUGO awards in 2016, which means it has to be out by the end of this year.  Exciting times people.
Winds of Winter: Bender has read it, Martin to attend San Diego Comic Con, is the book finally complete? (Day Herald)
George R. R. Martin Addresses Rumors That 'Winds Of Winter' Is Finished (Inquisitr)
Jon Snow's 'Game Of Thrones' Predicament Pushes Early 'Winds Of Winter' Release Date?
The Witchwood Crown (The Last King of Osten Ard) Tad Williams
Tad Williams recently announced the chapter titles for The Witchwood Crown, his first novel in the sequel series to Memory Sorrow and Thorn. The Witchwood Crown is due for release in spring 2016. Apparently it's over 1000 pages long at the moment!
Fantasy TV/Film
Patrick Rothfuss (Kingkiller Chronicle)
The great fantasy character of Kvothe might end up on screen if studios get into a battle over film/TV rights for Name of the Wind. 20th Century Fox had an option on a TV series however this has now lapsed, leaving the way clear for other studies to consider it. With such a big following for the Kingkiller Chronicle, it seems only a mater of time (hopefully!) before we see Name of the Wind and Wise Man's Fear brought to a whole new audience.
More news on Blastr: Studios are battling to bring Patrick Rothfuss' Kingkiller Chronicle to the big screen
Game of Thrones (HBO)
Check out the original audition footage of Gwendoline Christie (Brienne Tarth), Natalie Dorner (Margaery Tyrell) and others who became the stars of the Game of Thrones show
Are Jon Snow and Stannis Baratheon dead? Den of Geek interview David Nutter, director of the HBO Game of Thrones Season 5 final show (possible spoilers)
—————————-
More news next week. If you want to keep up to date on the latest fantasy genre news, register for the newsletter.