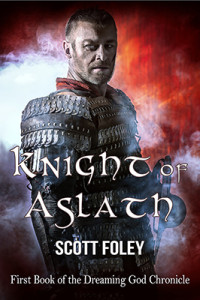 Hi everyone
Knight of Aslath has now been released (hooray), and is now available in the following stores:
The ebook is only 99p / 99c during the launch! The paperback of Knight of Aslath is also available on Amazon, retailing at £14.99 / $19.99 (USD).
If you haven't seen any of the pre-release information about the book, here's what Knight of Aslath is about. There's also a new section on the site that gives more information about the characters of the book and the world of Teth-Kiran.
Some free stuff – giveaway prize draw
No book launch would be complete without some free stuff to give away. Enter now and you could win either:
£20 in Amazon gift vouchers (or USD$30 / €30), OR
One of 3 signed copies of the paperback version of Knight of Aslath
Entry details below:
If you register for my newsletter, you will also get a code for the paperback version to give you $4 discount off the retail price (£2.56 on today's exchange rate). Oh, plus the first 3 chapters of Knight of Aslath as a free download.