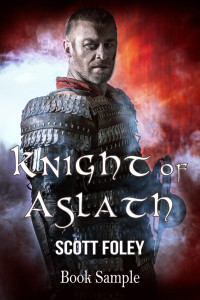 The Temple of Shirith-Kah is coming to Arkavia, to destroy the old gods, burn the land and blacken the sky. In the shadows of the Velderwood, unwitting guardians defend a forgotten hope against a demon sent to destroy it.
Termaris is a surly mercenary with a talent for killing, but he cares little for wars, gods, death or even life.  He takes one last job to escape prison, then reneges on the deal when the journey draws him back to an older, higher calling, and threatens to lay his past treachery bare. Ethné has unique powers she can't understand or control.  She wants answers, but her talent has a terrifying price which could leave her alone in a sea of enemies.
On a desperate mission they carry a holy vial south in search of alliance with the Empire of Teth-Kiran. But Arkavia's old master is an insular nation of conspiracies and deadly intrigue, and they care little for the lives of barbarians in the north. As a shadow of ancient evil falls upon the empire, few dare hope to bring the two nations together once more, as a last bastion against the Dreaming God.
Knight of Aslath marks the birth of a new epic fantasy, and chronicles the return of a forgotten magic which can shape worlds. The rise of an enemy whose dark power has cast down the old order, and reduced kingdoms to bones and dust. And the beginning of a war which threatens to devour all life, and challenge the gods themselves.
Fancy a read? Get 5 action packed chapters for free!
Just click to download the file in your preferred format.
To transfer it to your reading device, please follow the instructions below.
How to load your e-book onto an e-reader (using MS Windows):
Download the e-book file to your desktop or downloads folder
If you downloaded the MOBI or EPUB versions, double click and 'extract' them from their zip file first.
Connect your e-reader to the computer (using the device's USB cable)
In Windows Explorer, you should now see your e-reader device (such as a Kindle, Kobo, or mobile phone)
Using Windows Explorer, navigate to the e-reader device and find the appropriate e-book folder (on Kindles, this is called "documents", if you have a kindle app on your mobile device this may be called "Internal Storage/kindle")
Drag-and-drop the e-book file from the desktop into the e-book folder on your e-reader
Unplug your e-reader and let it refresh
A new PDF version will be added soon, which should be readable on most devices even without ebook apps.
If you don't have a dedicated e-reading device you can download free e-reader apps for your mobile device from the Android and Apple app stores. These include Kindle, iBooks, Kobo and Nook.
Enjoy!
Scott
info@scottfoleybooks.com